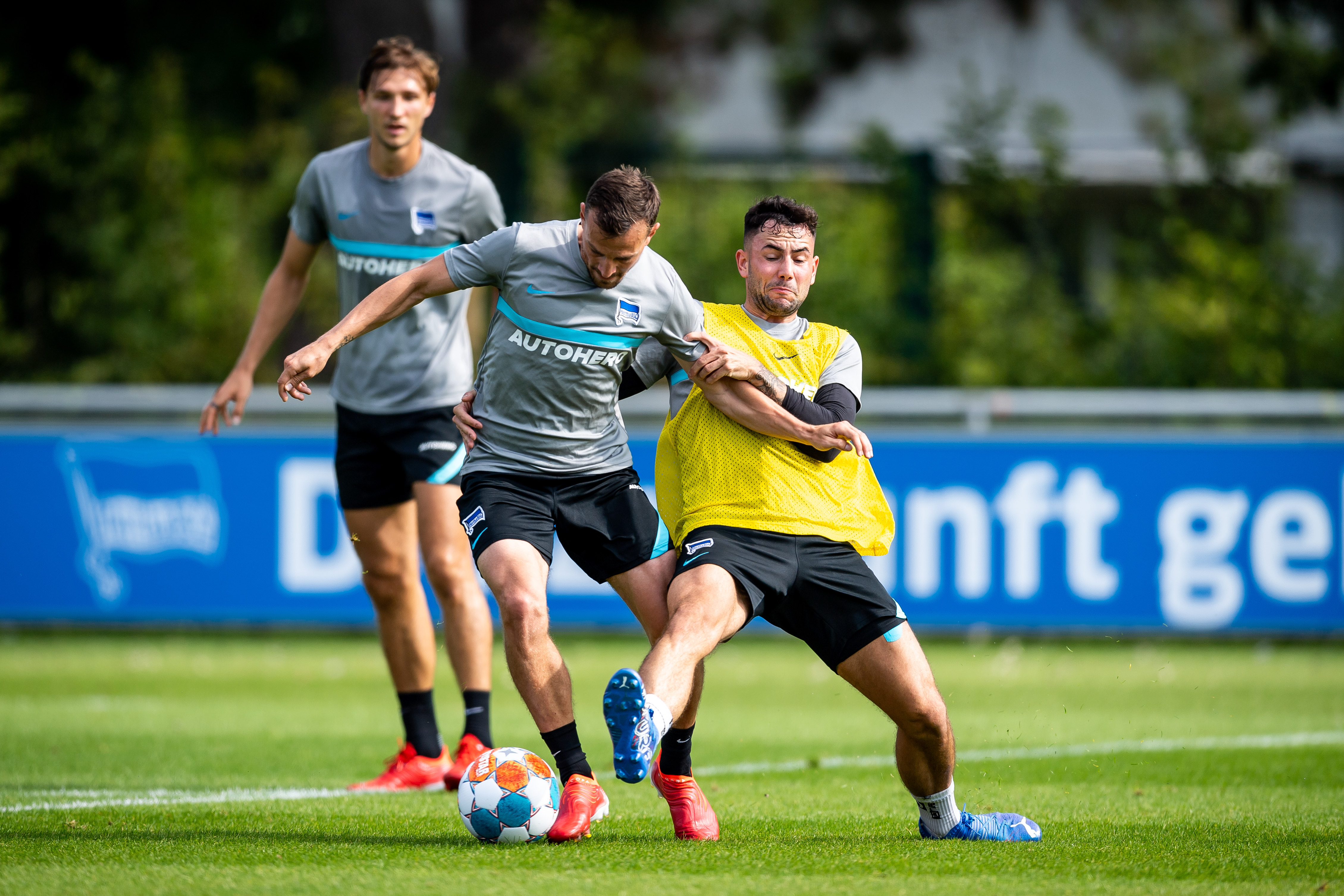 First team
|
September 7, 2021, 04:43 PM
Heads clear, now giving it one hundred per cent
The international break is a hotly-discussed topic in the Bundesliga: the long journeys and injury risk to the players, irregular training sessions due to the absent internationals as well as a general disruption to the league and the teams' rhythm. Whilst the first two aspects certainly apply to us at Hertha, the third and final point is somewhat advantageous to us, having started the season with three defeats. "We were able to clear heads during the weekend off. The lads did some running on Monday so we could move on to a more technical session on Tuesday. They trained well and put in a great effort, and now we are trying to prepare for the match in Bochum as best as possible," head coach Pál Dárdai commented on the team's training plan for this week.
A 75-minute session at Schenkendorffplatz was in store for the players on Tuesday morning before a fitness session run by Henrik Kuchno saw the team split into two groups in the afternoon. This was followed by some on-the-ball drills conducted by assistant coach Admir Hamzagić and then the team practiced five-vs.-two overload scenarios. The boys then did some interval running across the Schenkendorffplatz pitch and then played an eight-a-side match, as the 14 players present at training were joined by goalkeepers Alexander Schwolow and Oliver Christensen, in a game which was full of strong challenges, good communication and impressive goals. New signing Ishak Belfodil and midfield engine Vladimír Darida certainly proved their finishing capabilities. Although training had officially finished, several players stayed behind to further practice their finishing. "The new signings made a good impression, and we'll see how many minutes they will be able to play against Bochum as well as how we can incorporate them into the line-up," explained the Hungarian before the journey to VfL on Sunday (12th September, 17:30 CEST).
International players missing, and recovering players training individually
Although Christensen, Myziane Maolida, Belfodil and Co. have been taking part in training early this week, Pál Dárdai has had to lead training today without absent internationals Marcel Lotka, Dedryck Boyata, Peter Pekarík and Jurgen Ekkelenkamp, but the four players will return to training later this week. Rune Jarstein (Coronavirus illness), Márton Dárdai (ankle), Marvin Plattenhardt (adductor), Davie Selke (rib) and Krzysztof Piątek (fractured ankle) are all working on their comeback individually with fitness coach Hendrik Vieth. Stevan Jovetić travelled home for an examination of his calf by a trusted doctor, as was agreed, and he returns to Berlin this Tuesday. "Márton is still a question mark for this weekend, and we're keeping an eye on Marvin every day to see if and when he can return to team training," the 45-year-old commented on the defensive duo.
The coaching staff discussed squad readjustments following the morning training session, due to the currently total of ten absences from the squad, and looked to the academy players to fill these spots. "We will supplement our first-team squad with academy players. We will hold a meeting with the entire coaching staff as well as our sporting director to decide which youth players we will promote in the coming weeks. We want to give the younger players a chance, and we always planned to do that," added Dárdai, who wanted to emphasise the fact that he is more than happy with the current composition of his squad. "We've got some great players in the squad, and we just need to set up the team in a way that we can all get as much out of the games as possible. We're on a good path and I'm feeling very good about it," concluded the head coach, before he bid farewell with a "HaHoHe!" and headed towards the changing room. Let's hope the positivity of our head coach translates into the first three points of 2021/22 in the Ruhr Valley on Sunday.