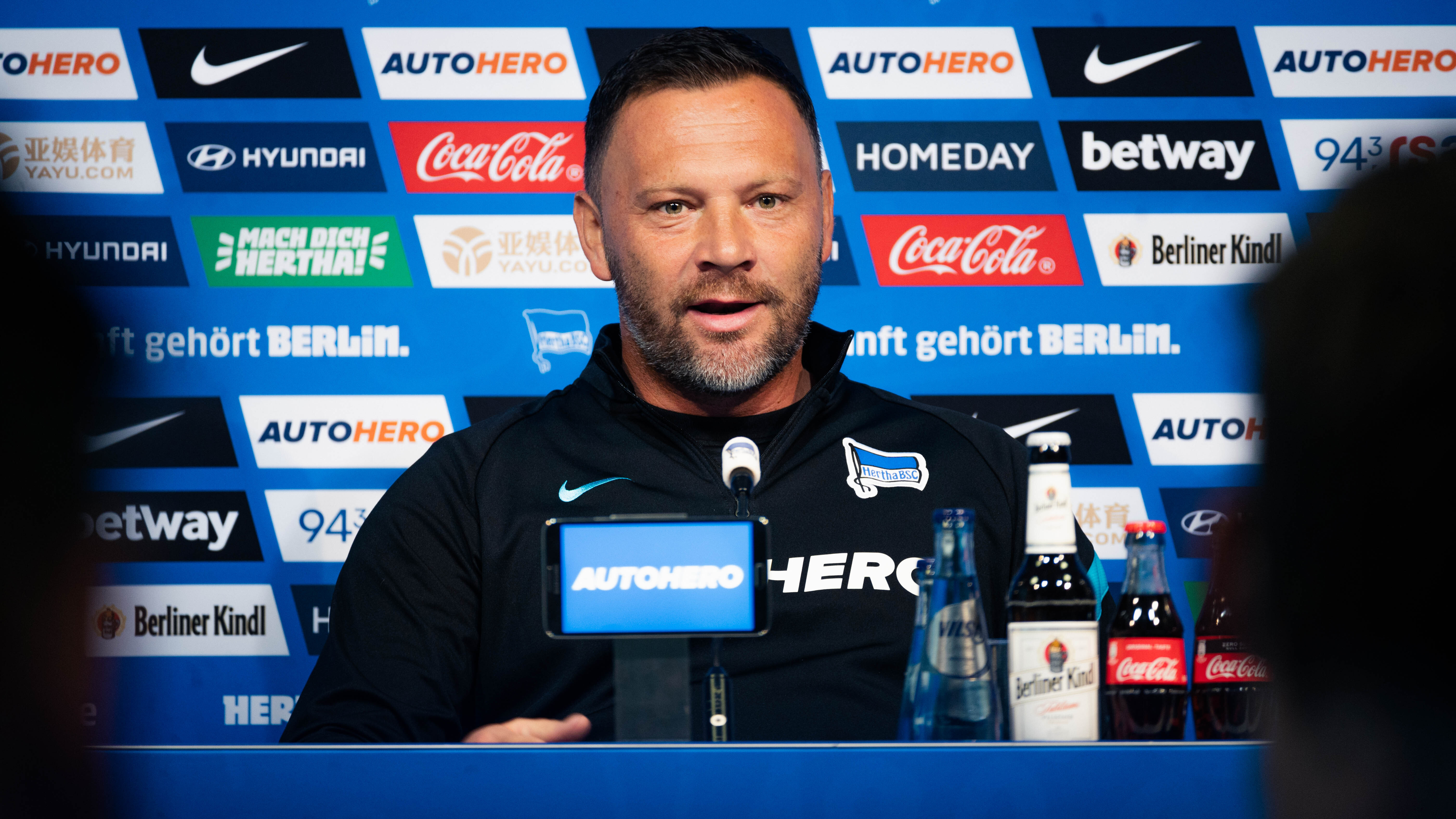 First team
|
October 14, 2021, 01:44 PM
"We need results when the weekend comes around"
Saturday's trip to face Eintracht Frankfurt (15:30 CEST kick-off) brings with it a few more talking points than usual: Fredi Bobic and Prince Boateng's return to a former employer, for example, or Pál Dárdai's return to where his current stint as Hertha head coach began. Bottom line is, however, that these stories are quite insignificant to the Hungarian and his players. What matters, as always, is how many more points Hertha have on the board at around twenty past five when the full-time whistle blows. Bobic and Dárdai spoke to the press ahead of the weekend's fixture, herthabsc.com brings you the quotes.
Regarding the situation in the table:
Pál Dárdai: We worked a lot on the physical side of things last week, this week we've focused more on playing football together. It was also about defending set-pieces, something we've spent a lot of time on and talked a lot about. It's weird to say that the lads have worked hard every week, I don't want to repeat myself, but I'm feeling positive. Only thing is, when the weekend comes around, we need results.
Regarding the reunion:
Fredi Bobic: I'm excited about returning. That first game at your old employer's place is always special. I had five great years in Frankfurt and it's nice to see people again who I worked with for a long time. I'm not just nervous, I'm excited about the game, hopefully there will be a positive result for us.
The game in Frankfurt:
Fredi Bobic: I expect the players to know what they're up against. But Pál will say the right things to the lads before they get out there, I'm 100 percent sure of it. In Frankfurt we will face a very physical side that lets the fans drive them forward. It will be a tough task for us, but we need to embrace the challenge and fight against it.
Pál Dárdai: We want to see the players defend as a team, not dropping too deep and only defending the penalty area, but holding the line earlier and higher up the pitch. We've put a lot of work into this at training. The next step is not just defending as a unit, but also attacking together. That's what I expect of the players.
Regarding the team's development:
Pál Dárdai: We won't achieve anything without team spirit, but we're on the right track and we can sense the positive energy – we don't need to convince ourselves of it, we can see it every week at training. As a team we have come a long way from the start of the year when we last played in Frankfurt. But we're missing four points, because we've given a lot away this season.