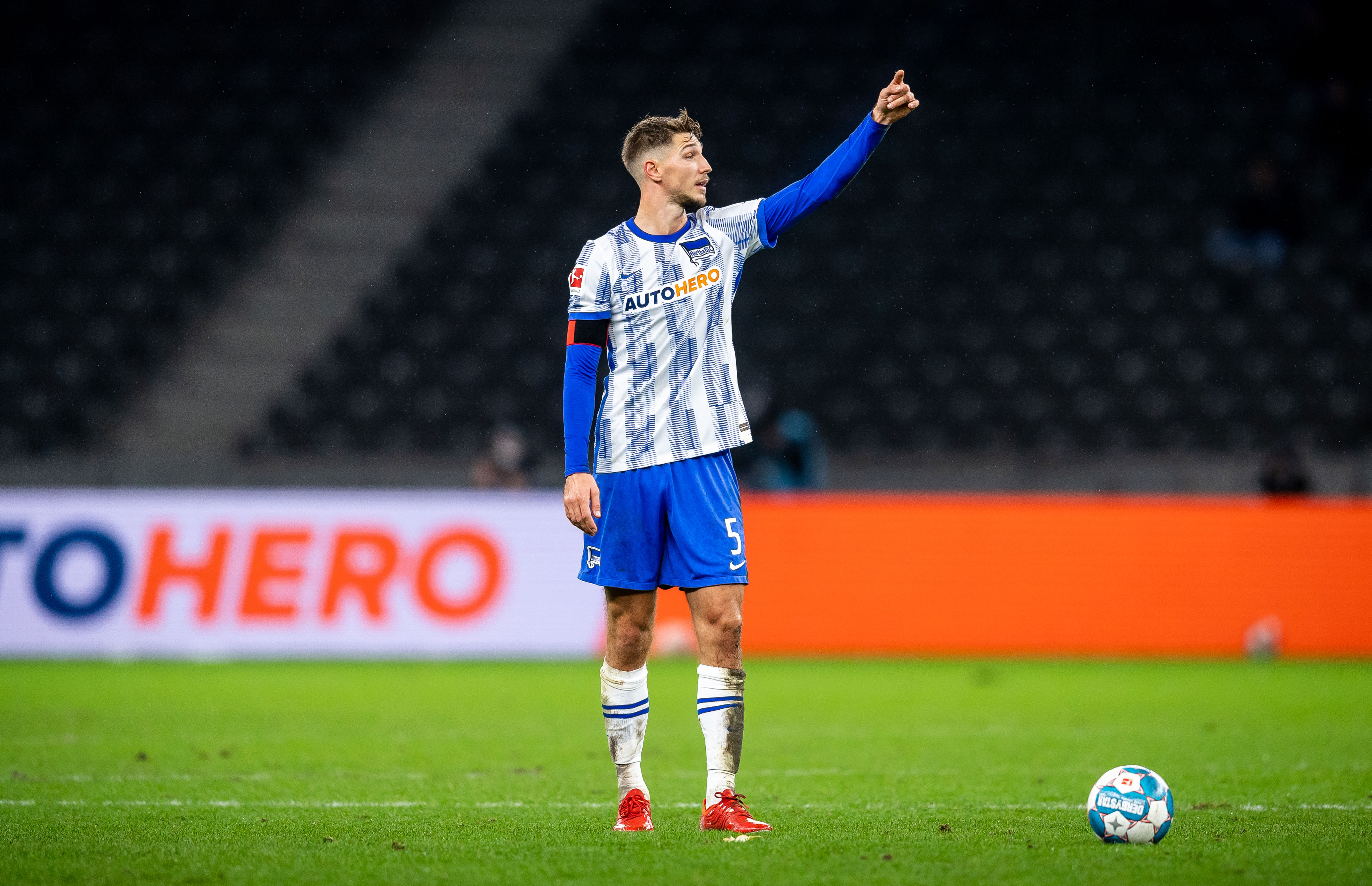 First team
|
November 17, 2021, 04:29 PM
"Carry on the good work in the derby"
Niklas Stark has already played 180 games in Hertha colours. The number 5 has worn blue and white through relegation battles and European campaigns, not to mention three Berlin derbies. The 26-year-old also lead his team out as captain in April against Union Berlin and will do the same on Saturday (20/11/21, 18:30 CET) in the absence of the suspended Dedryck Boyata. However, Stark is not approaching the game in any other way than normal. "Everyone here knows how important the game is. So nobody needs any extra motivation," said the defender, who has noticed a positive trend within the ranks. "We've found ourselves more as a team and are doing well. Now it's about carrying that on in the derby." Ahead of taking on the city rivals, the vice-captain spoke to the media about…
… the mood in the team and dressing room atmosphere: The atmosphere is good. Whenever there are better performances on the pitch, you notice it in the dressing room. The atmosphere in the team is more relaxed, and we are growing together as a team. We have to keep hold of all of that and continue to work well in order to get the rewards. For the international players who have been away, it's a very special to have the derby right away after returning. But we all know how important this game is in terms of points looking at the table, but also for our fans. Therefore, we will give one hundred percent in every single training session and then in the game!
… positive developments within the team: It's difficult to figure out where we're at currently. What is clear is that we have a framework and a construct now and that everyone knows that they have to do on the pitch. Sometimes things just need time. We have new teammates. Things take time to settle in. We're getting to find our way and are getting a better feel for each other. We have to consolidate it all now. Running performance, duels won – at the moment we're on a good path. Now we need to continue that – starting with the derby.
It's an important spell. In the past few weeks, we have shown a good level of compactness on matchday. We have to build on that - then we'll pick up points in the derby!
… what's necessary for a successful derby and his role as captain: In the past few weeks, we have shown a good level of compactness on matchday. We have to build on that. It's an important spell. We have to play our own game and play to our strengths. That will allow us to pick up points in the game. Everyone here knows what's at stake. The armband on my arm is no extra motivation; it doesn't change anything for me.
… the role as favourites: We'll have to wait and see. It could be a close, intense game, both teams give their all while remaining compact and fighting - regardless of the fact that it is a derby. I think we can expect 90 minutes that all fans can look forward to.
… full stands and the issue of safety: I can see both points of view. It's great to have a full stadium and to have such an atmosphere as a player. However, of course the rising coronavirus numbers will be in the back of our minds. It will probably be a strange feeling. Despite that, we have to stay fully focussed on doing our job – whether the stadium is full or empty is out of our hands. Above all ahead of a game like this, we can't let ourselves be distracted by off-the-pitch issues.
… possible fan actions: I don't know if the supporters have anything special planned. But regardless of that, we know that the fans are behind us and that they're all with us. We know that we will have them supporting us in the stadium. Therefore, we will go into the game with the good feeling of our fans on our side.
… his favourite derby: That was the 3-1 home win last season. Even though we played in an empty stadium, I had the feeling that we'd reached a lot of people with our win. That's why we went up to the stand at full time – it felt as though we had given something back, and we wanted the thank the fans symbolically. It was a really nice experience.