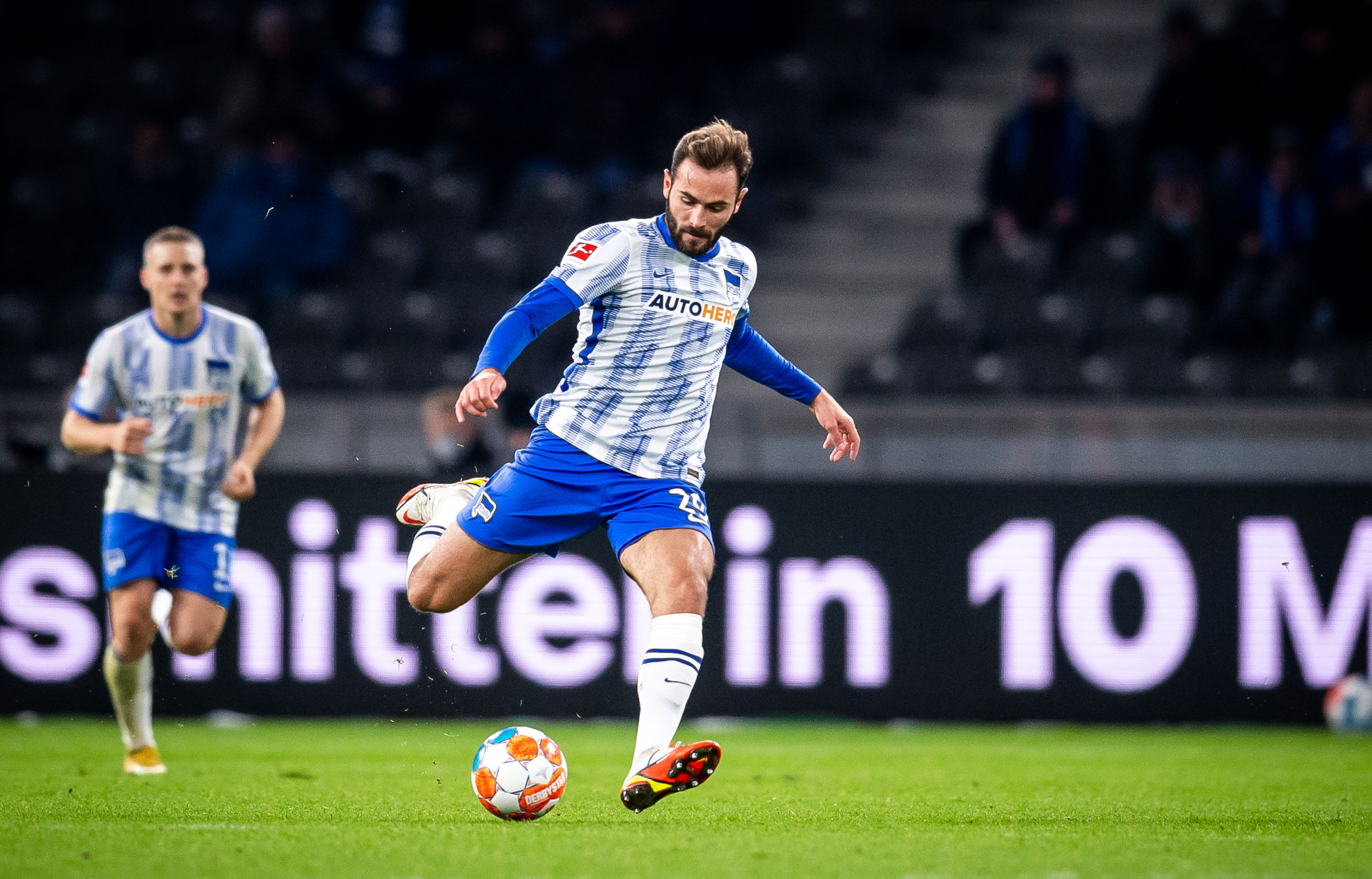 First team
|
November 19, 2021, 03:00 PM
"These are the most brilliant games"
Tackles flying in, running hard, and the will to help your own team with good honest work – those are the things your defensive midfielders need to show to be successful in a local derby. Two players who take this approach are Lucas Tousart and Santiago Ascacíbar, and they both want to bring their A-game to our local derby against 1. FC Union Berlin on Saturday (18:30 CET). Both midfielders are excited for the game: "Even without fans in the stadium over the last year, I felt how intense these games are. The spectators in particular missed these games, but now that we'll be able to have a full stadium, us players are looking forward to it even more," said Frenchman Tousart, who played in derbies against Saint-Étienne during his time at Lyon. "The butterflies in my stomach are getting stronger with the game so close. People speak about this game; the whole city gets absorbed into it – that makes it even more exciting. I want to do all I can to be able to get onto that pitch," said our number 29.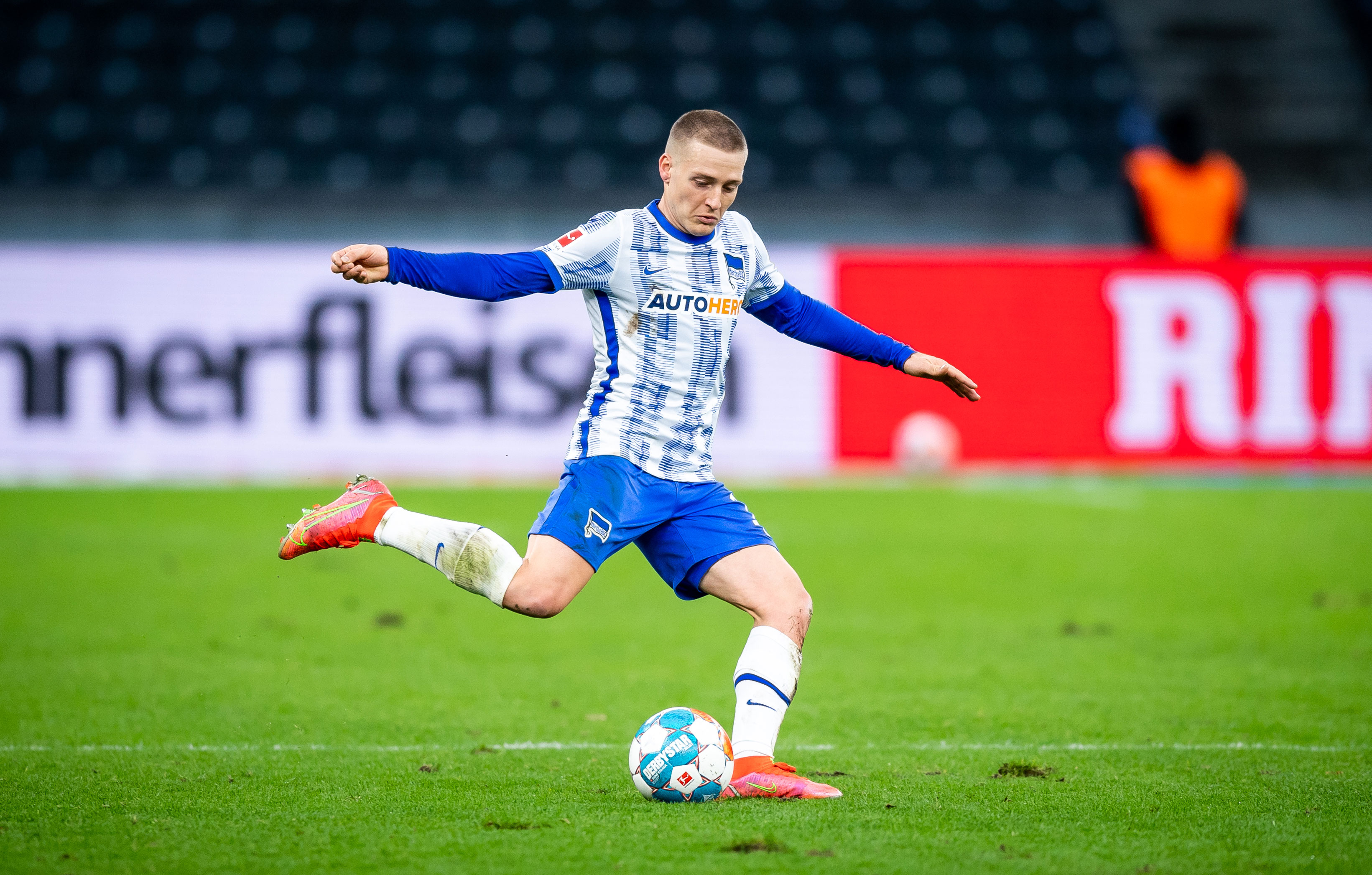 Despite previous derby experience, the Berlin derby is special in its own right
Ascacíbar is well aware of the fact that the beauty of a derby is not just in the 90 minutes played on the pitch. Our Argentine midfielder was immersed in the wild 'Clásicos' of his home country and know what counts at the end of the day, "These are the most brilliant games, and I always want to win them! It doesn't always have to look pretty – what matters is the three points and we want to earn them!" Our number 18 does not see too many parallels with the derbies of Argentina, rather that the Berlin derby is a game with its own character. "I don't know if I could compare the Berlin derby with the Clásico in La Plata. It's a different game and it has a different vibe for me, as I was born there," laughed the Argentina international, who has played four times for his country. "I have played against Union with fans when I was at Stuttgart, and I'm really excited to see how it will be on on the pitch this Saturday," said Ascacíbar, looking forward.
Background workers and a good mentality
Both Tousart and Ascacíbar will be put to the test in the middle of the park. Even if their important work for the "Old Lady" often goes unnoticed, they are team players, and do not kick up a fuss. "I have a lot of fun winning the ball back and helping the more attacking players in my team. Of course, I'm a bit of a player in the shadows, but winning the ball back, finding spaces and playing good passes is my job. I enjoy doing those things; I like being a part of the well-oiled machine," said Tousart. The Blue-Whites are making compactness a regular feature of their side. "The group have really gelled together, having a different mentality in games and really fighting for each other on the pitch. That's something we've got from Pál Dárdai and his coaching staff," added Ascacíbar.
The group have really gelled together, having a different mentality in games and really fighting for each other on the pitch.
Show how the team has improved
Our Herthaner want to show their development on Saturday in Kopenick, with hard work and a good match plan. The midfielders know just how important it is for everyone in blue and white to see a win in the first Berlin derby of three this season. "We have always earned at least one point against Union, and that's important for both us and our fans. We need to invest ourselves into this game as much as possible, so we've trained hard to be as ready as we can for Saturday," said Ascacíbar. "We've made a lot of progress in the last year and have three of these games this season to give our best. We need to leave everything out on the pitch and show that there's only one team in Berlin!" 'Löwe' Tousart said, defiantly setting the tone for the game. Our midfield duo want to be a part of a successful trip across the city, with teamwork, passion and soul – and convert their excitement into points.