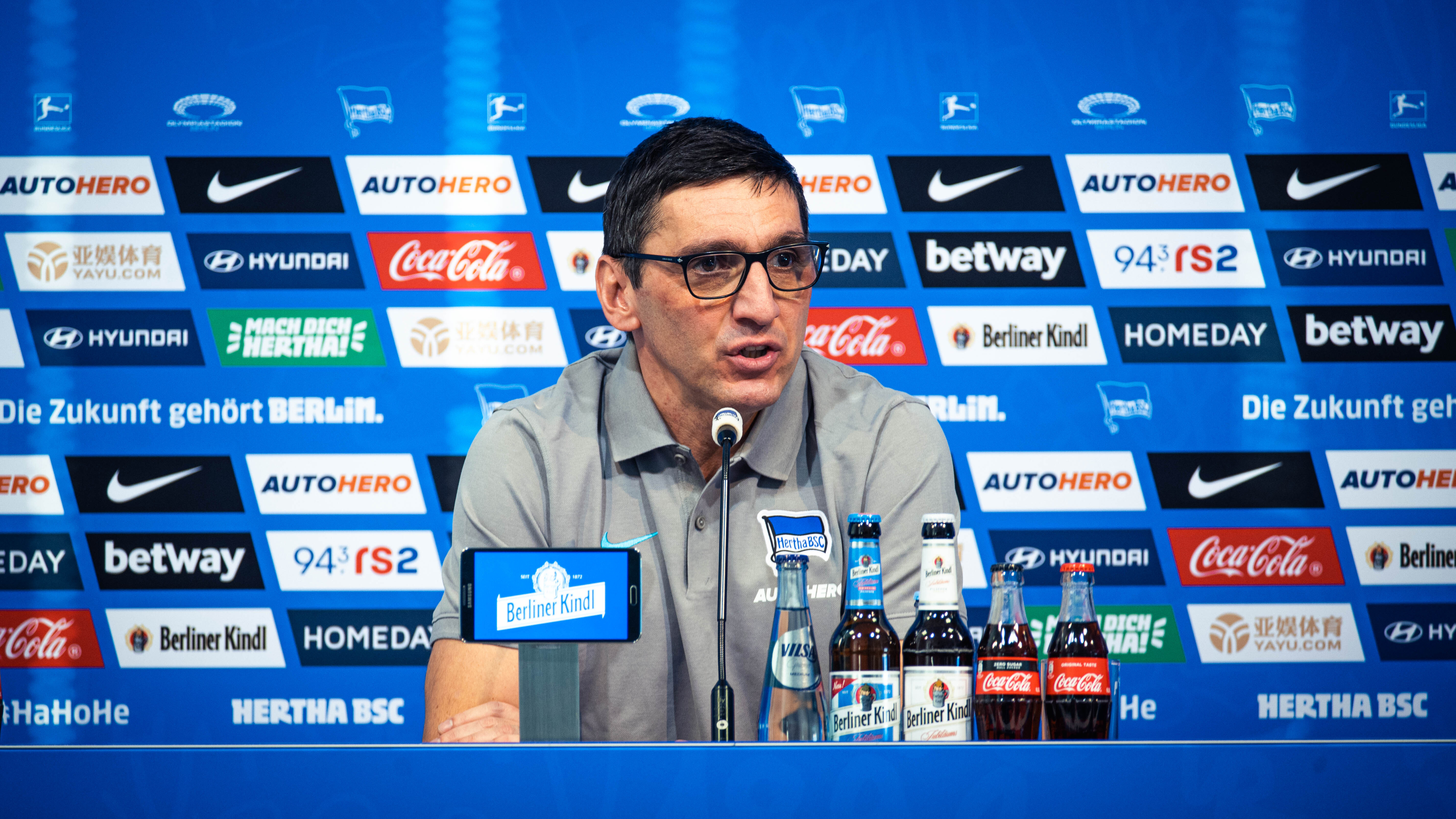 First team
|
December 16, 2021, 03:43 PM
"We want to play with confidence and enjoy the game"
The final pre-match press conference of the year took place on Thursday in the capital. Fredi Bobic took his place alongside Tayfun Korkut to talk about Saturday's home game against Borussia Dortmund (18:30 CET), but also the defeat to Mainz on Tuesday night. "There's no doubt that the performance wasn't good. None of us were happy with it. However, the team is better than they showed that day – they've already proven that," explained Korkut, who expects his players to "play with confidence and enjoy the final game" of 2021. "With the way the table is right now, there are chances to move up it, but we have to accept the reality and that is we are stuck down the bottom right now. That can't be our goal," summed up Bobic. The duo spoke about…
…dealing with the defeat in Mainz:
Tayfun Korkut: We analysed the game on Wednesday with the team and spoke about it. As the coach, I learned new things, though I have to remember that we had two decent games before this. There's no doubt that the performance wasn't good. None of us were happy with it. However, the team is better than they showed that day – they've already proven that. This match is now in the past and our full focus is on the Dortmund game.
…the approach for the Dortmund game:
Tayfun Korkut: We want to play with confidence and enjoy the game, just like we did before the Mainz match. A resolute defensive performance will be important and the players will need to work hard together when we don't have possession. We also want to see things with the ball that were good against Stuttgart and Bielefeld. We want to be dangerous too.
…the table:
Fredi Bobic: It's really close in mid-table with just a few points separating a whole host of teams. Teams can climb a few places with two or three wins, whilst a few defeats can also see you slide back down. It's really exciting for the fans, but not so much for the people in charge. We have to continue working hard on ourselves and do lots of things better. With the way the table is right now, there are chances to move up it, but we have to accept the reality and that is we are stuck down the bottom right now. That can't be our goal.
…expectations for the future:
Tayfun Korkut: It's obvious that the more points you have at the winter break the better. Our development and performances on the pitch are also important though – that's a real priority for me. You have to perform if you want to take points ultimately. We need to do more to have more success – that applies to this game but also for the future as well. It's vital that we stick to our plans. We must play well by working hard each day and then get our points by playing in a certain way.
…his first months in Berlin:
Fredi Bobic: I knew that my job at Hertha BSC wouldn't be easy, but that's why it appealed to me. We've made plenty of changes at the club already, not just regarding the sporting side of things. One thing is for sure: I know what I'm doing and I've got a clear idea of where we want to be. After our analysis at the start of the season, we're working on processes that will help to improve us. I'm confident because everyone involved is giving their all. The whole process would have been easier if we weren't living in times so badly affected by Corona.