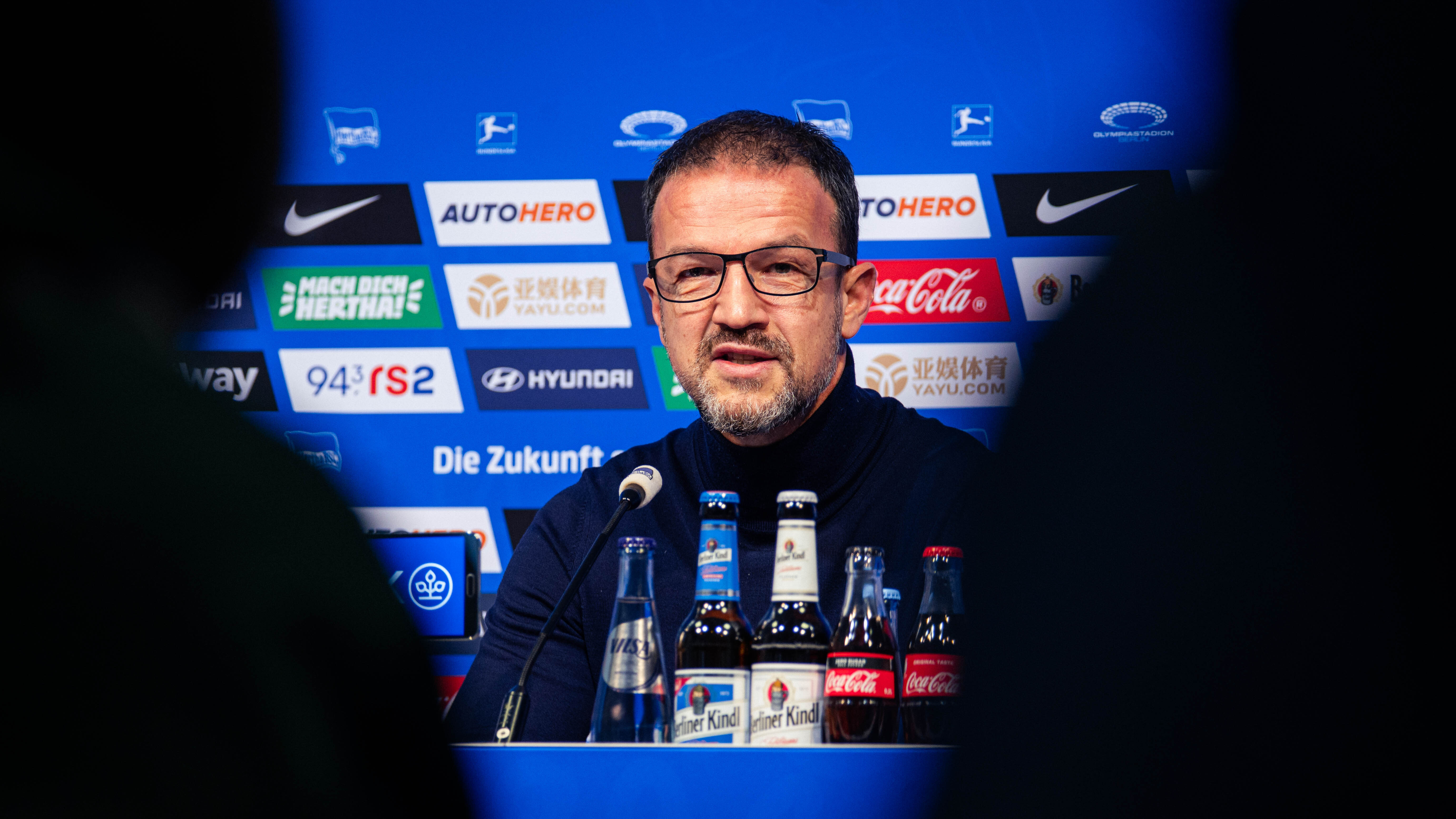 First team
|
February 1, 2022, 01:47 PM
"Trust and support our team!"
The winter transfer window was open for a total of 31 days – a time during which every club had the opportunity to strengthen their squads. Fredi Bobic and his team were also hard at work during this period, making four new signings, announcing three loan deals and having one player leave the club on a permanent basis. "I'm happy because we accomplished exactly that which we set out to do," the 50-year-old said. During a press conference on Tuesday, our managing director for sport spoke about the window, offered an open insight into his thoughts and confirmed the departures of sporting director Arne Friedrich and academy director Benjamin Weber. herthabsc.de have summed up the most important answers from today's press conference.
Fredi Bobic on...
…this season's winter transfer window: There wasn't a lot of cash flow on the market this time. It was really clear to see, and there wasn't a lot of movement even in the final days of the window. People often speak about the famous 'deadline day,' but it was totally quiet. We haven't seen anything like it over the last years. That has nothing to do with Hertha BSC; overall, there was very little happening. Every club tried to do what they could within the parameters they had set. In these current times, every club is looking at where they might be able to save on payroll costs and how to minimise risks. There wasn't really a lot of hype, which is why after announcing the signing of [Kélian] Nsona on Monday, we made it clear that we were done making signings. My cell phone was pretty quiet after that (grins). We decided against using a progress bar this time (laughs).
…the team: I'm happy because we accomplished exactly that which we set out to do. We added two players in Fredrik Bjørkan and Marc Oliver Kempf who will be able to have an immediate impact. Dongjun Lee is a player who has a bit of a magic touch, and Kélian Nsona is a young talent as we look ahead to the summer. In my eyes, this is our squad. Of course there could be some non-domestic transfers that happen, but we're not actively pursuing those, and I don't think there will be any more activity from us in that area. We want to work with the squad that we have. Now, all the lads know that we are counting on them for the end of the season. We want to give our team the strength to be full focused on taking the points we need from the remaining 14 games.
...Fredrik Bjørkan: As we saw on his debut against Bayern München, Fredrik is a player that brings something new to the left wing. He's quite fast and brave. He won't shy away from attempted to dribble if needed. Fredrik will need to settle into the Bundesliga, but that won't take long seeing as he has already played at high level.
…Marc Oliver Kempf: I don't have to say much about Marc Oliver Kempf. He was captain at VfB Stuttgart, and is a player that is very comfortable in the Bundesliga. He is a tough tackler and has a very strong mentality.
…Dongjun Lee: Dongjun is incredibly fast, can play at a number of different positions in attack and looks to penetrate deep, something that we have lacked. I hope that he will arrive fit and ready to go in Berlin on Wednesday and that he will settle in quickly. He was beaming on his first day here, and was so excited to tour the Olympiastadion and just wanted to run out on the pitch already. He's super excited for Hertha BSC, which is great to see.
…Kélian Nsona: Kélian is coming off an injury, as we all know. Because of that, it was important for us that we take over control of his recovery and getting him back to full match fitness. We can't really say just yet when he will be ready. We want to give him time to settle in, to learn the language and to get fit. We're giving him more than enough time and maybe that will help speed things up – we wouldn't mind that (grins).
...rumours and mind games: We definitely considered bringing in a right-back, but also can't forget that we already have two right-backs in our squad, in Peter Pekarík and Lukas Klünter. At the end of the day, it just wasn't possible. That's why we decided not to and instead want to use the options we already have at that position. It wasn't about doing something just for the sake of it. We can't overload our squad and each individual position. Having too many players on the books during the season throws off the balance within a team. It's true that we were looking at Lucas Alario and Danny da Costa. But, we found that it just wasn't possible in either of their cases. That was quickly resolved, but the media continued to write about it as if it were fact for a long time.
Arne Friedrich on....
…forming the squad: We were focused on maintaining a balance in our transfers, and ended up signing two attackers and two defenders. We did the same with the players that left us. It's important that we keep a certain balance within our team. Over the last years, there's been a lot that's happened here, with several players joining and leaving. It then takes time for a team spirit to develop. We focused on doing things that were important to us, and signed players that will be able to help us out immediately and that will make us better in the future.
…the 10 players currently on loan: We have expanded our backroom staff and have put structures in place so that we have a director of squad planning, a technical director, and have expanded our scouting and analysis departments. It's necessary to have this with 10 players on loan, in order to keep in contact with the lads and the clubs. We keep a close eye on their individual development and are in close contact with those involved.
On the departure of our sporting director…
Fredi Bobic: Arne has decided to leave the club in the summer and to not extend his contract. I spoke often and openly with Arne about this. I regret his decision, which I also told him. I really enjoyed working with him. I respect and accept his decision, because I know how important the USA and his foundation are to him. It's a loss for Hertha BSC, but no one is upset at him for making this decision.
Arne Friedrich: I can definitely confirm that this is true. I made this decision of my own free will. I came here two and a half years ago in order to be with the club during a tough phase. I wanted to help the club get back on solid ground and implement certain structures. I wanted to help Hertha and obviously had my own concerns. It wasn't an easy time and there were a lot of changes and challenges. Overall, I learned a lot during this time. I got to know several players and coaches and tried to do my part each and every day. The process isn't over yet. I'm fully convinced that the club are well equipped with Fredi Bobic at the helm and that they will see the fruits of his labour in the coming years. I will leave the club in the summer with this good feeling intact. I am very thankful, as there are lots of great people who work here, and I value each and every one of them. Hertha BSC have a great team. I will use the summer to reflect. I will focus on those projects that I've neglected a bit recently. But, I'll only be leaving in the summer and will continue to give it everything until my last day!
On the departure of Benjamin Weber…
Fredi Bobic: Benjamin Weber came to me and will leave the club at the end of February. I think it's too bad, because I greatly value him as both a person and employee. However, Benny is looking for a change and for a new challenge after so many years here. I think it's too bad because Benny has done a lot for our club. Even here there was no resentment over his decision. We wish him all the best and have found a solution, which he deserves after such a long time.