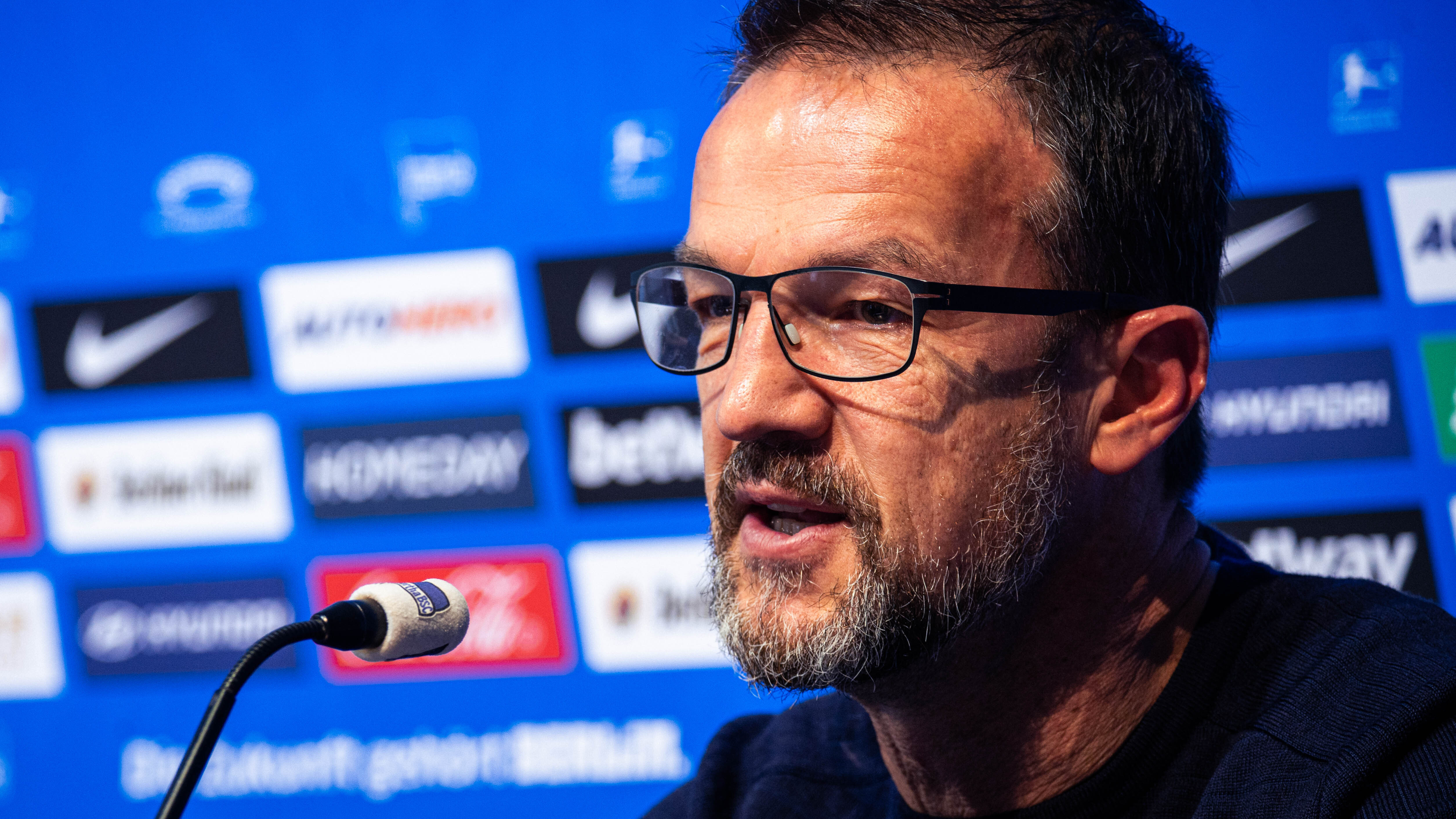 First team
|
April 22, 2022, 02:56 PM
"Nobody was dancing down the motorway"
Hertha BSC host VfB Stuttgart on matchday 31 on Sunday (24/04/22, 17:30 CEST). The fixture is a meaningful one for Felix Magath and Fredi Bobic – our head coach was previously in charge of Sunday's opponents, while Bobic also spent time there both as a player as well as part of the sporting leadership. However, the focus at the pre-match press conference on Friday was clearly on the here and now. The aim is to build on the win last time out. "It's obvious that the Augsburg win only really counts if we follow it up and win again. We'll give it all we have to make sure the three points remain in Berlin," said Magath. Bobic finds the squad to be hungry and focused after the win away in Augsburg. "Nobody was dancing down the motorway on the way home to Berlin. We have to carry it on against Stuttgart, everyone knows that," said the 50 year old. The head coach and sporting director on…
… the situation ahead of the game:
Felix Magath: It was good and important for us to have won in Augsburg. But those points only really mean something if we also pick up the points against VfB. The team worked hard for the win against Augsburg. We can only look at ourselves and want to pick up as many points as quickly as possible in the upcoming games.
Fredi Bobic: Nobody was running around dancing in the changing room or on the motorway after the win in Augsburg. Things have to continue against VfB; everyone knows that. The boys have to work out there on the pitch. The rest of the upcoming games don't matter right now. The only decisive game is the next one up.
… team news and focus:
Felix Magath: We want to keep the team as stable as possible and make as few changes as possible. Prince was a decisive factor in the last game; he was a leader and brought structure. He will definitely be involved again on Sunday and hopefully direct just as much. We won't make a lot of changes but have to think about who will replace Marco Richter, who is suspended. It's obvious that the win in Augsburg only matters if we go out and win again. Both teams have to be ready for what will be a hard fight. We'll give it all we have to keep the three points in Berlin. I'm hoping for the team to take their performance to another level from the game against Augsburg, and then we'll see what comes from it.
… VfB Stuttgart:
Felix Magath: VfB play good football and have fast attackers; we're set up for that. We've seen recently that it was the fight that brought us success, after trying to find the right answers on the ball. We fought in Augsburg, forced FCA out of their rhythm and now we want to do the same against VfB. My work in Stuttgart, both in a footballing and personal sense, was the nicest and longest phase I've had. Overall, I had a great time there that I look back on with fondness. But to stay up, VfB will have to pick up their points elsewhere and not here in Berlin.
Fredi Bobic: Stuttgart is my home town and of course I have a link to the club. It's always nice to see VfB again; the club has an interesting team with exciting players. However, we want the points on Sunday!