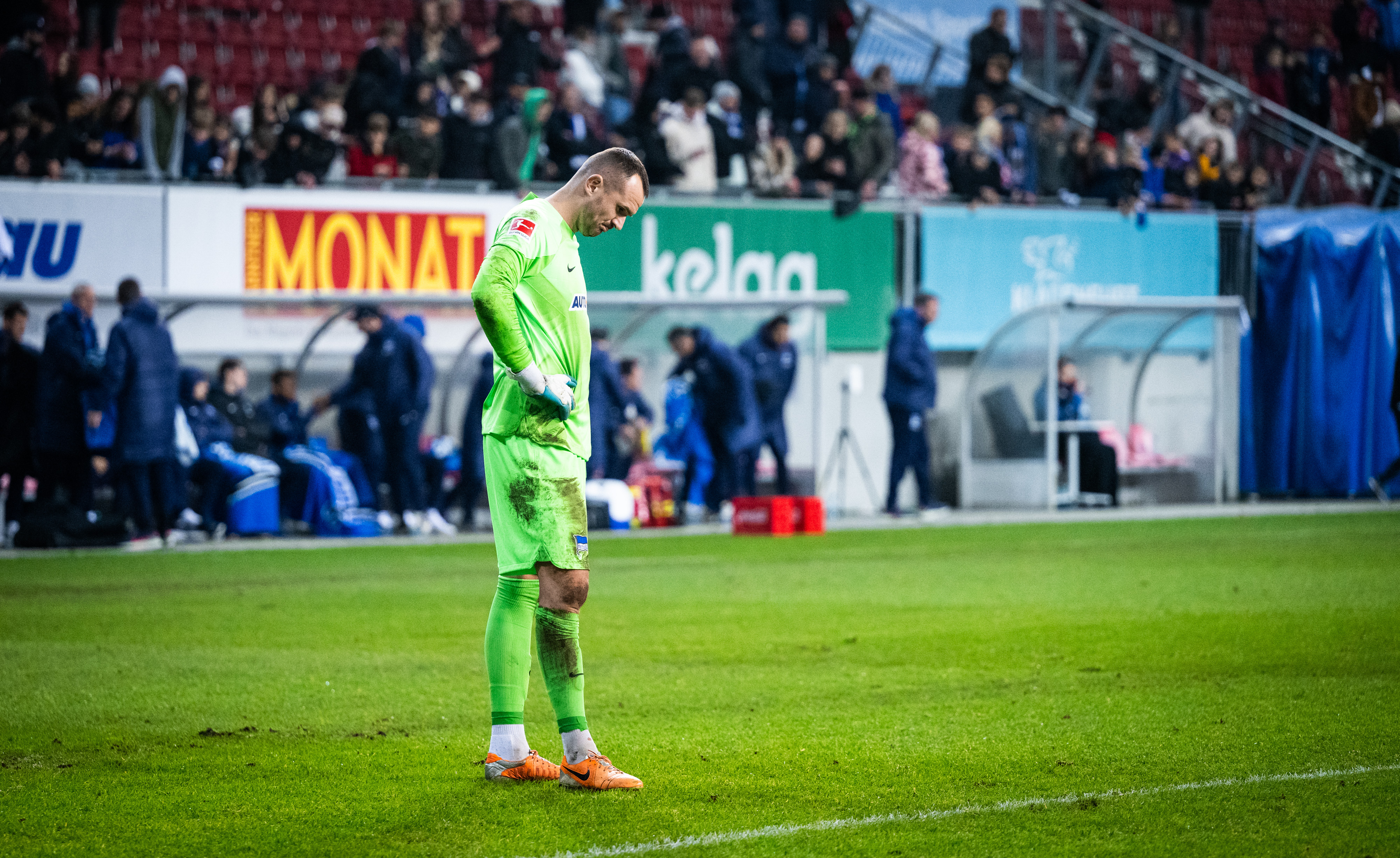 First team
|
November 19, 2022, 06:18 PM
Loss on penalties in the Wörthersee Cup
In the second semi-final of the Wörthersee Cups in Klagenfurt, Sandro Schwarz started with the experienced Philip Sprint between the posts, with both Oliver Christensen and Tjark Ernst away on international duty. In defence was Sonny Ziemer, who also plays for the U23s, alongside Filip Uremović, Lucas Tousart and Maximilian Mittelstädt. Vladimír Darida and Suat Serdar sat in front of the back four. Nader Jindaoui, captain Prince and Chidera Ejuke began in attacking midfield, with Wilfried Kanga the lone striker in a 4-2-3-1 formation.
1860 take the lead – Kanga equalises shortly before the break
The team needed a few minutes to work their way into the game, having not played together much before. As a result, it was the Dritteliga side who had the most notable to chances to start through Martin Kobylański (5',8', 10'). A short time later, Sprint was fortunate to fumble the ball onto the post (11'). At the 20 minute mark, however, the goalkeeper was powerless as Albion Vrenezi fired 1860 into the lead. At the other end Hertha missed chances from Ejuke, which was saved by TSV 'keeper Marco Hiller, and Uremović, with the ball hitting the bar, to find an instant response (25', 26'). As the game went on there seemed to be a drop in intensity. But shortly before the break Hertha found an equaliser. Jindaoui carried the ball through midfield, before Ejuke found Kanga, who coolly slotted home to make it 1-1 as the two teams headed into half time (41').
Ten new outfield players and an early lead
In the second half, Hertha started with ten new outfield players, with Jonjoe Kenny, Agustín Rogel, Joel da Silva Kiala, Deyovaisio Zeefuik, Ivan Šunjić, Jean-Paul Boëtius, Dodi Lukébakio, Marco Richter, Dongjun Lee and Derry Scherhant entering the fray. Rogel missed a header following a Lukébakio corner (48'). Shortly afterwards, Richter, who had taken over the armband from Prince, attempted to lob the keeper (52'). At this point the Blue-Whites had more control of the ball and were showing their attacking threat. Consequently Schwarz's side took the lead. Lukébakio broke through on the right, before breaking into the box and playing the goal across goal, where Quirin Moll could do nothing but turn into his own net (54'). Now in the lead, Hertha tried to hammer home their advantage, but instead a Fynn Lakenmacher strike meant that out of nothing it was now 2-2 (72'). However, Hertha did not allow this to set them back, with Scherhant and Lee both missing from distance (73', 76'). Richter then shot over, before later firing straight at Hiller (82', 85'). Lukébakio made no mistake with the next chance though, cutting in from the left and curling right into the top corner (86'). Everything point towards a narrow victory for the 'Old Lady', but Leandro Morgalla scored in the last minute of additional time to equalise and send the game to penalties (90+3').
Game decided on penalties – Zeefuik hits the bar
In the penalty shootout, Boëtius missed the first kick, before Kenny and Lukébakio scored. Two 1860 players scored from their first three kicks, meaning the shootout was level at 2-2 heading into sudden death. Šunjić finished confidently, but Zeefuik smashed his penalty into the bar, and it bounced out. This meant the shoot out finished 4-3, giving TSV 1860 the win and meaning Hertha will contest the third-placed play-off against GAK 1902 on Sunday (20.11.22, 14:00 CET).
Hertha BSC (First half): Sprint – Ziemer, Uremović, Tousart, Mittelstädt – Darida, Serdar – Jindaoui, Prince (C), Ejuke – Kanga
Hertha BSC (Second half): Sprint – Kenny, Rogel, da Silva Kiala, Zeefuik – Šunjić, Boëtius – Lukébakio, Richter (C), Lee – Scherhant
TSV 1860 München: Hiller (46' Kretzschmar) – Lannert (26' Lang), Verlaat (46' Moll), Morgalla (46' Wein), Greilinger (46' Steinhart) – Rieder (46' Y. Deichmann), Tallig (46' Knöferl) – Vrenezi (46' Boyamba), Kobylański (46' Skenderovic), Wörl (46' Freitag) – Bär (46' Lakenmacher)
Goals: 0-1 Vrenezi (20'), 1-1 Kanga (41'), 1-2 Moll (Eigentor, 54'), 2-2 Lakenmacher (72'), 3-2 Lukébakio (86'), 3-3 Morgalla (90+3')
Penalty shoot-out: Boyamba misses, Boëtius misses, 0-1 Steinhart, 1-1 Kenny, 1-2 Wein, 2-2 Lukébakio, 2-3 Skenderovic, 3-3 Šunjić, 3-4 Lakenmacher, Zeefuik misses.