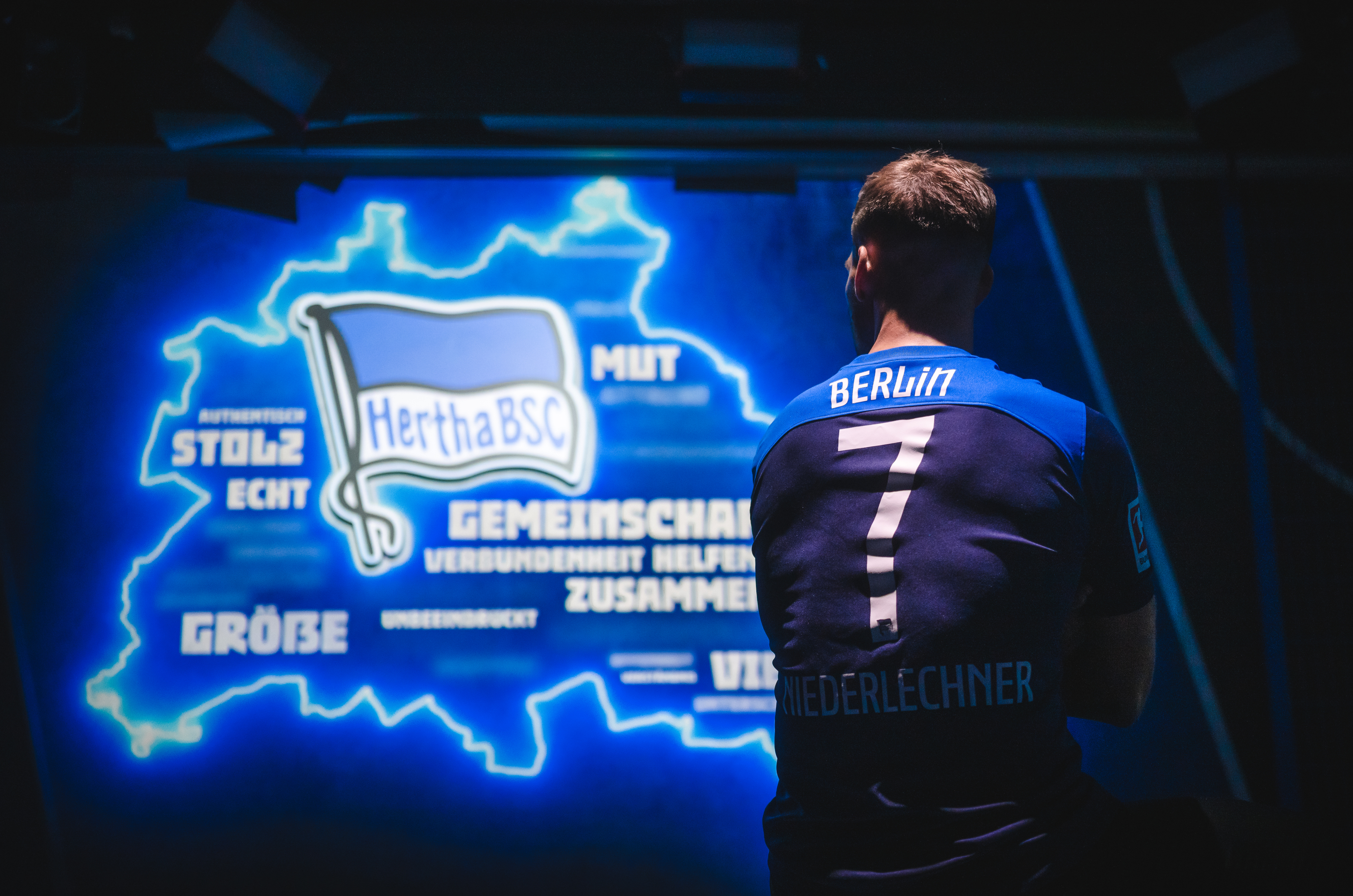 First team
|
January 18, 2023, 10:52 AM
"Sandro Schwarz had me on board right away!"
Florian Niederlechner was clearly impressed with what he saw during a 10-minute virtual tour, which gave an insight into the club's 130-year history, including all the highs and lows. "I got goosebumps when we entered the tunnel. I now know what it really means to play for Hertha BSC," said our winter signing. "I can't wait to get going here. I'm really excited!" Our new number 7 is clearly raring to go, even if there may be some communication problems. "I'm going to have to get used to the language around here. There are quite a lot of differences between the Bavarian and Berlin dialects," joked the 32-year-old, who talked about his reasons for joining, his somewhat unusual career path and contact with Maik Franz.
herthabsc.com: Flo, welcome to Berlin! We've known since the start of the year that you would join Hertha, but instead of moving in the summer you've arrived now. What has happened over the last few days?
Niederlechner: Servus, I'm really pleased to be here at Hertha. The past few weeks and days haven't been that easy for me because I've left one club to join another one in a similar position in the table. It's an unusual situation and I underestimated it. FC Augsburg have a place in my heart and I've got two children that were born in that city. The management at FCA came to me and wanted a long chat. I asked them if I could leave in the winter already. We agreed that it would be the best possible solution for all parties. I can't wait to get going here. I'm really excited, even though I'm going to have to get used to the language around here. There are quite a lot of differences between the Bavarian and Berlin dialects (laughs).
herthabsc.com: What were the main reasons for your move to the capital following your discussions with the club?
Niederlechner: The most important conversation was with Sandro Schwarz – he had me on board right away! I told my agent straight after the phone call that I'd like to move to Hertha. I was lucky that I had a good first half of the season and got plenty of minutes, but I knew I only wanted to be in Berlin after speaking to Sandro.
herthabsc.com: You have already played with Marco Richter, Suat Serdar and Marc Kempf from our current squad. Did you speak to any of the lads before joining? Are there other things that connect you to the club?
Niederlechner: I spoke a lot to Marco. His parents are actually good friends with my family. I get on really well with him and he's given me a lot of advice. He's really pleased that I'm now at Hertha. Suat also messaged me, even though we only played together for a short time in Mainz. I played with Marc for three and a half years in Freiburg, we did a lot together. I'm really looking forward to seeing all three of them again, but also the other lads that I will get to know. Aside from the current squad, I also actually spoke to Maik Franz. I met him during my holiday in the winter. I told him that I was in contact with Hertha and I may well be moving to the club. He spoke really highly of Hertha and promised me that I'd feel right at home here.
herthabsc.com: Let's take a look at your career. You went from being an industrial clerk and playing in the sixth division to being a regular in the Bundesliga, it's not been the typical story, has it? Did you always dream of playing in the Bundesliga? You once said that you probably wouldn't have made it as a professional if you'd been in an academy?
Niederlechner: I was still playing in the Landesliga when I was 19 and was completing a course to become an industrial clerk at the same time. A lot of people laughed at me when I talked about the Bundesliga back then. I had a cool time and enjoyed the job, but was quick to accept the offer of a professional contract from SpVgg Unterhaching. Even in the third division, I didn't expect to ever play in Bundesliga 2. This is now my eighth season in the Bundesliga, which is incredible! The last 10 years have been like a cool film when I look back over all that's happened.
herthabsc.com: You have nearly 200 Bundesliga games under your belt and have been involved in 65 goals. It's no secret that you're a serious threat in front of goal. How would you describe your style of play?
Niederlechner: It shouldn't come as a shock that I don't enjoy talking about myself much (grins). I can say that I'm a player who leaves it all out on the pitch for his club. The Hertha fans will quickly see that they have someone up top who gives it everything he has. If I'm able to score goals and provide assists as well, then it's even better for me as a striker.
I had a lot of contact with Sandro Schwarz. He's a big part of why I've come to Hertha.
herthabsc.com: When studying up on you, we noticed that you hold an interesting Bundesliga record…you probably know which one we're talking about.
Niederlechner: I knew that would come up. I know exactly what you're asking about: I was shown the fastest yellow card in league history. That question gets asked in nearly every interview. I really wanted to set some kind of Bundesliga record, and in the end it was that one (laughs). Jokes aside, that was at my former club, Mainz 05, and it happened relatively quickly – an accidental elbow to my opponent's face. It's just something that happened. I'm not sure whether I'm happy to hold this record – at least it gives people something to talk about.
herthabsc.com: Speaking of Mainz, during your time at the club, a certain Sandro Schwarz was coaching the U23s. Did you have any contact to him back then?
Niederlechner: The first team and the reserves trained in the same building back then, so our paths crossed often. I had a lot of contact to the reserves and spoke often with Sandro. We had a good relationship back then already. He's a big part of why I've come to Hertha.
herthabsc.com: Another notable aspect of your career is that you've spent the majority of it in south Germany. Now, you're moving to Berlin. How much time have you spent thinking about your move?
Niederlechner: When I knew that the transfer would happen this winter already, I then started looking for a place to live in Berlin. I'm very family-oriented, and my family is the most important thing to me. I have two young kids and an amazing wife and want them to be able to join me as soon as possible. Finding a place to live has been my priority. I'm looking forward to getting to know the city and think that my kids will want to go to the zoo as soon as possible. I hope that our time in Berlin will be amazing and will do everything I can to make sure that we all enjoy it.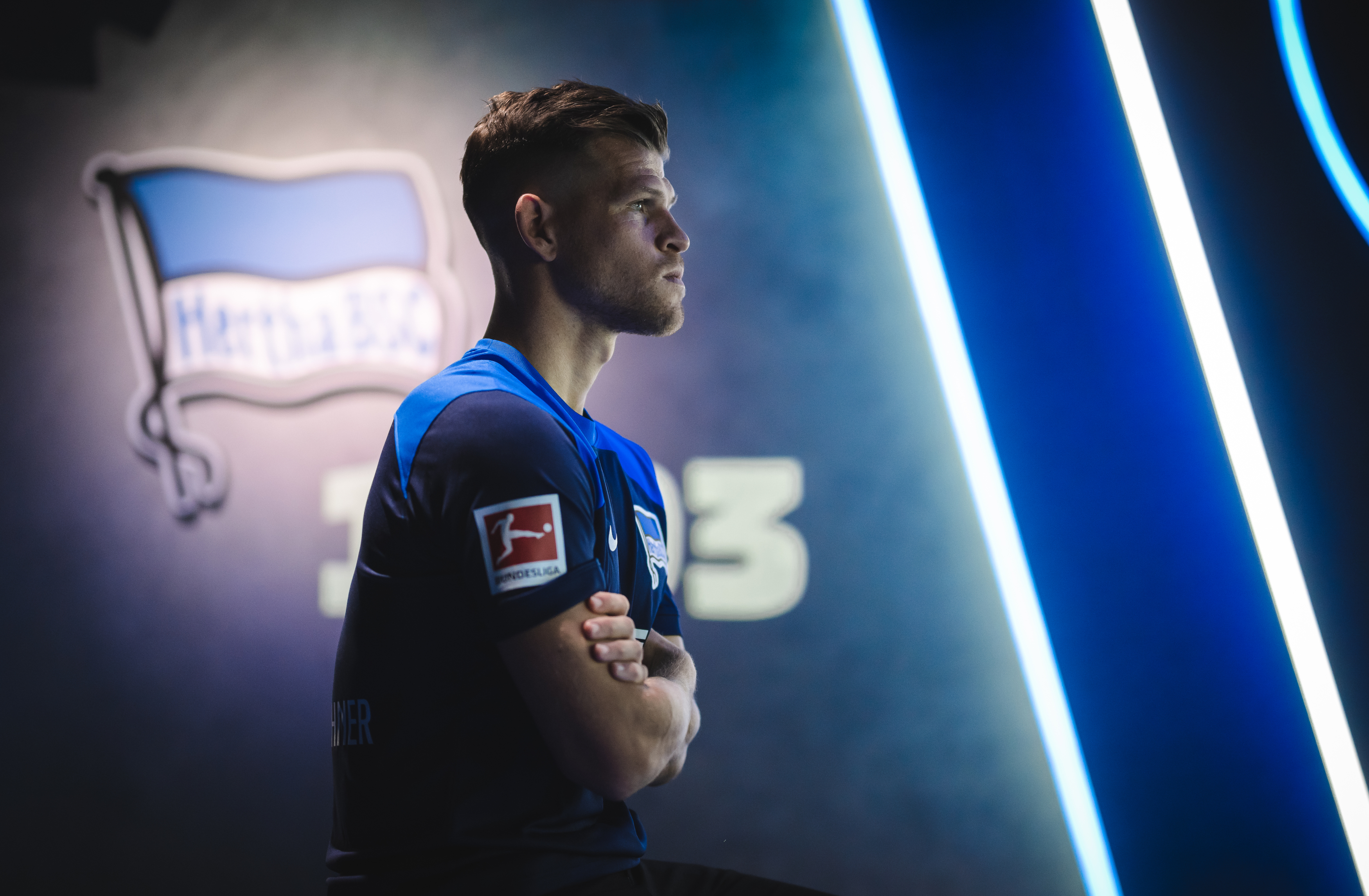 herthabsc.com: What goals have you set for your time at our club?
Niederlechner: I want to play as much as possible and be involved in loads of goals. To be completely honest, I'm 32 years old and won't be getting called up for the national team any more, so the most important thing to me is that we are successful as a team. In the short-term, we want to secure safety as soon as possible. I will do everything I can, even if I was unlucky to pick up a small injury in my final friendly with Augsburg. That's why I won't be able to play on Saturday against Bochum yet.
herthabsc.com: We're wishing you a speedy recovery! Our final question is a bit more personal: what do you do in your spare time when you're not playing football? Schafkopf?
Niederlechner: My favourite thing to do is spend time with my kids. I will also definitely go to several ice hockey games here in Berlin, because I'm a big fan of the sport. You mentioned Schafkopf, but I don't think we'll be able to get a big group together here at Hertha to play it. I don't know how many of the lads here even know the rules (laughs). I was invited to attend a big tournament hosted by Sky presenter Michael Leopold on Monday, but I have a lot of things on my plate right now. I'm looking forward to having a good time in Berlin!