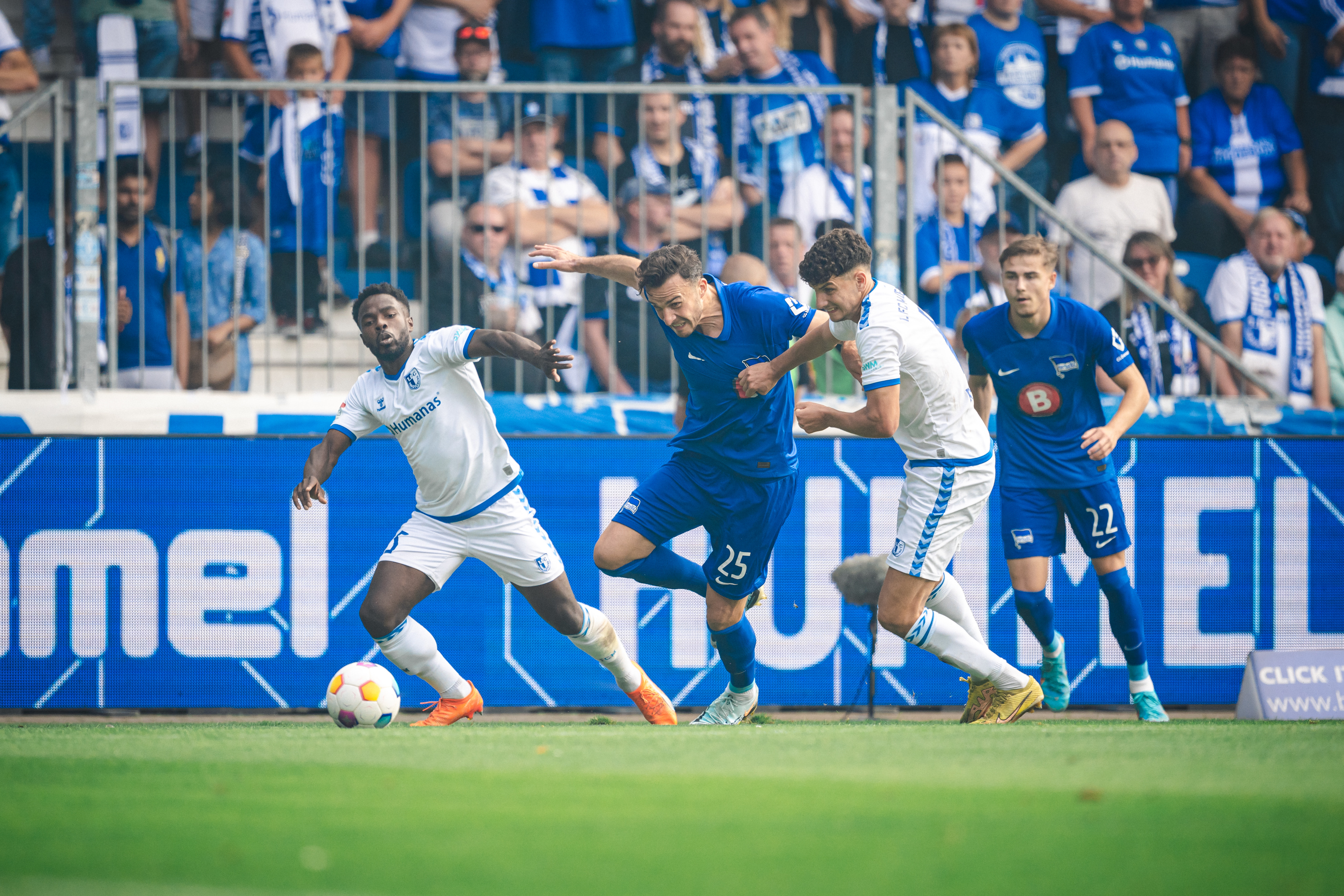 First team
|
September 2, 2023, 02:57 PM
End-to-end game ends in defeat
Head coach Pál Dárdai named an unchanged XI ahead of the first competitive meeting between Hertha BSC and 1. FC Magdeburg. New arrivals Bilal Hussein and Andreas Bouchalakis, who moved to Berlin this week, started the game on the bench.
A back-and-forth start
The game in Saxony-Anhalt started with a bang. The Blue-Whites pressed hard, with Fabian Reese picking up the ball in the box and skilfully scoring his first 2.Bundesliga goal of the season to make the score 1-0 in the second minute. The lead wouldn't last long, however. Tjark Ernst parried a powerful strike from Schuler into the path of Silas Gnaka, who was able to level up the game in the 7th minute
After a period of pressure from Magdeburg, Haris Tabaković burst into the box and set Marten Winkler up with an inch-perfect pass, who temporarily restored the Old Lady's lead. The advantage lasted until the 37th minute, when Schuler latched onto a misplaced pass and scored to level the game up at 2-2. That wasn't all that the first half had to offer, as Tabaković nodded home from Winkler's cross in the 43rd minute to ensure that we headed into the break 3-2 up.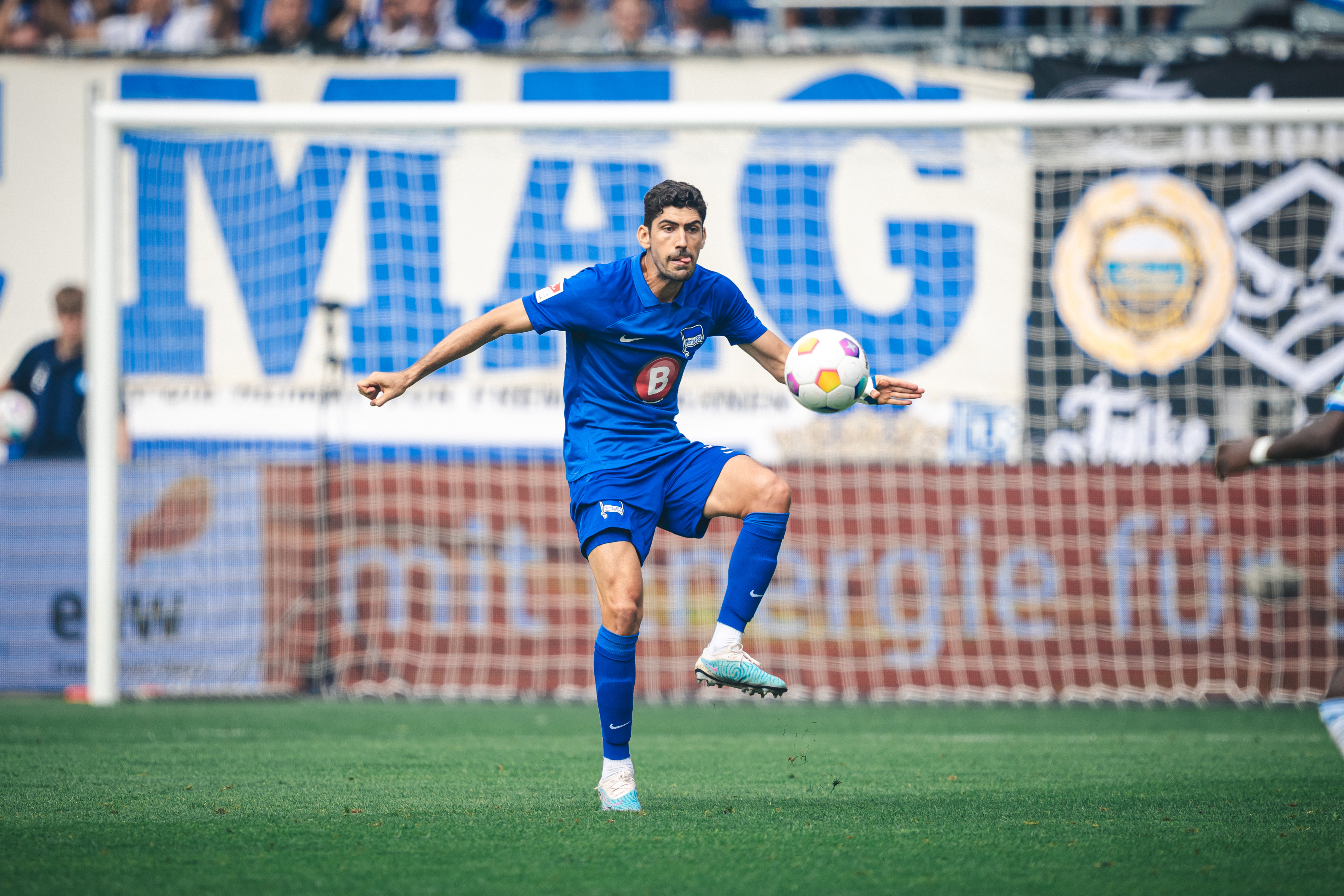 Blow for blow at the start of the second half
The head coach brought Bouchalakis on for his debut at the start of the second half, as he replaced Jeremy Dudziak and Smail Prevljak came on for Winkler. The break didn't ease the intensity of the game, as Çeka scored the third goal for the Ottostädter three minutes after the restart. Hertha struck yet another blow in the 55th minute, with Prevljak's cushioned header from a corner setting up another Tabaković goal – taking his tally to four for the season already. This still wasn't enough – 180 seconds later, Léon Bell Bell equalised to make the score 4-4.
If you thought that was the end of the goals, you'd be wrong. Much to Hertha's dismay, Magdeburg had their fifth goal just before the 70th minute courtesy of an absolute pearler from Mohammed El Hankouri. More substitutions couldn't stop the flow of goals, with Ahmet Arslan's goal in the third minute of added time sealing the home team's victory. Hertha head back to Berlin empty-handed and will have to wait until after the international break for the next chance to pick up points against Eintracht Braunschweig on 17th September.
Fabian Reese: You don't see many games that end 6-4. We did well to create chances and score goals with the space that Magdeburg gave us, but we didn't defend as a unit. We were caught lacking too often and lacked stability in general. You've got to come away with at least a point when you score four goals.
1. FC Magdeburg: Reimann - Lawrence, Elfadli (36' - Condé), Heber - El Hankouri (84' - Ito), Hugonet, Gnaka, Bell Bell – Atik (84' - Arslan), Çeka (84' - Nollenberger) - Schuler (69' - Castaignos)
Hertha BSC: Ernst - Kenny, Leistner, Kempf (60' - Gechter), Karbownik (71' - Pekarík) - M. Dárdai, Dudziak (46' - Bouchalakis) - Winkler (46' - Prevljak), P. Dárdai (71' - Niederlechner), Reese - Tabaković
Goals: 0-1 Reese (2'), 1-1 Gnaka (7'), 1-2 Winkler (22'), 2-2 Schuler (37'), 2-3 Tabaković (43'), 3-3 Çeka (49'), 3-4 Tabaković (55'), 4-4 Bell Bell (58'), 5-4 El Hankouri (68'), 6-4 Arslan (90+3')
Referee: Tom Bauer
Yellow cards: Heber, Atik, Kilian – Leistner, Winkler, M. Dárdai
Attendance: 26,872 (sold out)